Regular price
Sale price
$38.99 USD
Unit price
per
Sale
Sold out
365 يوماً مع صحابة نبينا الحبيب
تشكل التربية الدينية للأطفال من المواضيع الأثيرة في المجتمع الإسلامي المعاصر، وخاصة عند الحديث عن نبيّنا الحبيب والشخصيات المقربة منه (صلى الله عليه وسلم)، والتي كان لها دور عظيم في نقل المعرفة الإسلامية إلى العصر الحديث.
يساعد كتاب (365 يوماً مع صحابة نبيّنا الحبيب) في إعداد الأطفال لاتخاذ صحابة رسول الله قدوة في حياتهم، وقد تمت رواية القصص بضمير المتكلم. أخذت هذه القصص المروية بلسان الصحابة أنفسهم، وفيها يتحدثون عن أنفسهم، وعن النبيّ، وعن الصحابة الآخرين وقد تمّ اختيار الأحداث الواردة بعناية ومن المصادر الصحيحة للحديث، وأُعيدت صياغتها بحيث تعكس روح وأجواء ذلك العصر لهذا تمّ إعداد الكتاب بحيث يمكن قراءته يومياً خلال عام واحد، في 365 يوماً عدد أيام السنة؛ حيث يتعرف الأطفال على صحابة رسول الله (صلى الله عليه وسلم) وفضائلهم وأخلاقهم وسلوكياتهم والأحداث التي حفلت بها حياتهم، ويرد في الكتاب ذكر لكثير من الأحداث التي كانوا شاهدين عليها. وبذلك، يجد الأطفال أنفسهم يعيشون نوعاً من المغامرة التاريخية الشيقة وقد زُين الكتاب برسومات ملونة بألوان زاهية تقرّب الوقائع والأحداث إلى ذهن المتلقي، ما يجعل من الكتاب أداة تعليم هامّة وفاعلة للأطفال.
Share
View full details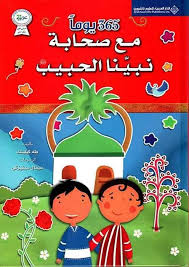 Encourge your child to prayer early on to make salaah a natural good habit.