Regular price
Sale price
$11.99 USD
Unit price
per
Sale
Sold out
Award-winning artist Richard Jesse Watson presents a warm, funny story about a rabbit who finds many treasures inside his magic hat, but nothing that's better than a special friend to share them with.
One day, a magic rabbit hops out of a hat and discovers he can do tricks with it. He pulls out some juggling balls, a picnic, and even a car to drive, but there's no one to share in the fun. Rabbit needs a friend. He reaches into the hat for some new playmates, but the frogs hop off, the mice scurry away, and the birds flap up into the sky. But before Rabbit gets discouraged, he tries one more trick, and out pops another magic hat. Inside that he finds the perfect friend: another magic rabbit, just like him! Magic tricks may be fun, but finding a friend is the best magic of all.
Scholastic Arabic
Share
View full details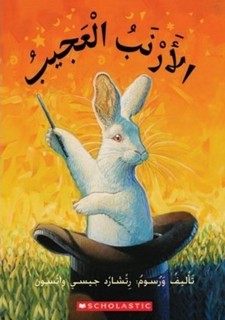 Encourge your child to prayer early on to make salaah a natural good habit.