Regular price
Sale price
$7.99 USD
Unit price
per
Sale
Sold out
Bilingual reader books to teach the language. Easy to read sentences written in English and Arabic.
عربي – إنجليزي) الأطفال في سن الروضة يمرون بمرحلة كلها نشاط وحركة وربما ينتج عن هذا النشاط الزائد بعض السلوكيات الغير مألوفه فى نظر الوالدين وقد يكون سلوك الأطفال عادي وطبيعيا تبعا لهذه المرحلة.
Share
View full details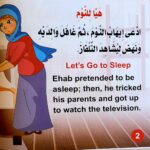 Encourge your child to prayer early on to make salaah a natural good habit.